SocialPicks Sentiment:




** v.s. other stocks

This Quarter's Sentiment:
CHK Analysis & Videos »
CHK: Bull or Bear?
Chesapeake Energy
CHK
N/A

+17.22%




in 1159 days

This is a great value stock!

Right now Chesapeake appears to be trading at a a discount and perhaps by the time the price closes in on a fair value natural gas may emerge from its rut giving further fuel to the fire. Lets take a look at why Chesapeake Energy looks good right now.

* Average Analyst price target for 1 year: $28.90
* 5 of the last 5 earnings were positive surprises
* Strong earnings and though there is a slight decline in anticipated earnings growth for next year, its still an attractive Forward P/E
* Revenue growth looks to be back on track wit< />< />< />< />< />< />< />< />...
Chesapeak Energy - Natty or Nasty?
CHK
N/A

-3.28%




in 1367 days

<>

A couple of days ago,

Chesapeake Energy Corporation

(NYSE:

CHK

) came up during a discussion with some friends of ours.





Our thoughts were directed around the company as a long-term investment and were based on various articles we had read on the web, while their comments were based on their knowledge of the gas industry.





Since they are gas traders, having spent several years on the floor of the

NYMEX

, we of course yielded to their expertise.



<> So overnight last night, we received an e-mail from them that was a follow->>...
Cramer on BlogggingStocks: Go for nat gas, coal is doomed
CHK
Chesapeake (CHK): A natural in natural gas
CHK
Oil stock #5: Chesapeake Energy (CHK)
CHK
-34.83%
in 1625 days
Filed under: Chesapeake Energy (CHK), Economic data, Oil, Stocks to Sell
The interest in using natural gas as an alternative to crude has helped natural gas-based companies appreciate in value. Chesapeake Energy (NYSE: CHK) has benefited from that interest, with a gain of more than 20% this year.

<>CHK is an interesting story in that during the craze in energy prices in 2008, the CEO of the company was forced to liquidate his entire position. That forced selling created an opportunity to buy the stock at an incredibly cheap price, even beyond the artificially low energy prices reached earlier t>...
Sell these hot oil stocks for big profits now
CHK
+0.00%
in 1 day
(closed on 06/28/09)
Filed under: International markets, Competitive strategy, Chesapeake Energy (CHK), Economic data, Oil, Stocks to Sell, Earnings transcripts
You have to love OPEC. It's not uncommon for the barons of the giant cartel to voice their interest in seeing oil at such-and-such a price.

Recently, OPEC reiterated its desire to see oil prices at $80 per barrel. This, they claim, is the price needed to spur additional investment in crude projects. Apparently, anything less will result in oil sitting idle in the ground.

Continue reading Sell these hot oil stocks for big profits now

<><>Sell these hot oil stock>>...
Cramer on BloggingStocks: Lots of ways to play sturdiness in natural gas
CHK
How do you spell Democrat? I-n-f-l-a-t-i-o-n
CHK
-10.11%
in 227 days
(closed on 06/27/09)
Filed under: Chesapeake Energy (CHK), Presidential elections, Oil, Stocks to Buy
I've been following the election closely for two years. For the most part, politics is a hobby of mine, but in this year's election my interest went much deeper.

I recognized very early that the 2008 vote would be monumental on so many levels and investment opportunities would abound. I even outlined the impact of the policies of each candidate on the market in an election gallery.

<>Now that the results are in with the Democrats taking significant control of the executive and legislative branches, I want to drill d>...
'Natural' picks: Chesapeake (CHK) and Mainland (MNLU)
CHK
+22.38%
in 311 days
(closed on 09/15/09)
Filed under: International markets, Newsletters, Chesapeake Energy (CHK), Commodities, Oil, Stocks to Buy

"Oil stocks have been hinting at a rebound; as much as I think that crude oil is oversold, natural gas looks even cheaper," says Charles Payne.

The editor of WStreet Strategies explains, "Natural gas has a propensity to become oversold, and this is one of those instances." Here, the advisor reviews a pair of favorites in the sector.

"Natural gas is at April 2005 levels, the economy will drift but it's not going to roll back to levels of three years ago.

<>"Moreover, demand should surge as th>...
CHK - Historic Gas deposits found
CHK
-26.69%




in 1895 days

I am reversing my early sell on CHK and now rating CHK a buy. There are a number of reasons. The first and foremost being their new gas discoveries. These deposits were found several months ago but I felt the market would not be able to hold the gains it made given the decline in oil prices. I now feel oil prices will likely move higher in the near term especially if we get a decline in the dollar which I am also predicting.

CHK's discovery is possibly the largest gas discovery in history. If the country starts moving to shift its auto fuel to CNG CHK will have superb positi...
Chesapeake Energy Called the Market's Bluff
CHK
-40.28%
in 1923 days
To say that trading energy stocks has been difficult in recent months is a major understatement. When you see that even an industry giant like Chesapeake Energy Corp. (CHK) lost money in its hedging activities, you know that trading activity during the last quarter was extremely wild.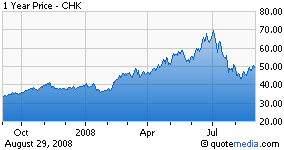 At Friday's closing price of $48.40, Chesapeake Energy shares are down 35% from their 12-month high of $74. But the cause is clear.
New 'giant' gas field boosts Mainland Resources (MNLU)
CHK
-50.69%
in 85 days
(closed on 11/07/08)
Filed under: Newsletters, Chesapeake Energy (CHK), Commodities, Oil, Stocks to Buy

"Mainland Resources (NASDAQ: MNLU), a small natural gas play, could be a giant in the space in a short period of time," says Charles Payne.

In his WStreet Market Commentary, he explains, " The company involved in the super exciting Haynesville shale region, which could be one of the largest domestic on shore natural gas fields ever."

"The stock has been coming on lately as more investors learn about the company's potential in the Haynesville shale region.

<>"Discovered in March of this year, the Haynesville field ->...
Wind's Our Future, but Natural Gas Is Now
CHK
-41.30%
in 1949 days
The attacks on T. Boone Pickens' plans -- everything from his integrity and self-interest to his quixotic nature -- as Jim Cramer says, "just makes no sense whatsoever. They hold no water at all.
They are just wrong and misguided. The people against him, the ones that call him a dreamer, are the ones who have done no homework and are deeply cynical. And if they don't keep their mouths shut, we will forever be addicted to foreign oil."
CHK
CHK
Don't know who sells this...
CHK
-46.44%




in 1952 days

Ummm... since the quarter ended they've made $5 billion in hedges. Yes... with a B. So those unrealized losses last quarter turned out to be a pretty smart investment that I don't think people realize when they trade this with oil (which they do instead of nat gas... oddly enough). Oil going down may lose them millions this month, but it makes billions... I love Aubrey.
People Bullish on CHK
People Bearish on CHK
| | | |
| --- | --- | --- |
| ROCK-STAR INVESTORS | | POPULAR STOCKS |
| TODAY'S HEADLINES | | TODAY'S TOP PICKS |
About Chesapeake Energy Corp - Answers.com


Historical Prices - Yahoo


Message Boards - BoardCentral.com

More Info: Yahoo | Google | Reuters