SocialPicks Sentiment:




** v.s. other stocks

This Quarter's Sentiment:
FNM Analysis & Videos »
FNM: Bull or Bear?
some day we'll get rid of dead wood
FNM
| | | |
| --- | --- | --- |
| | | Obama would probably like to get rid of the FRE and FNM system some day. So as the economy improves, my guess is the outlook for things like AIG, FNM, FRE worsen. The American people will want their money back at some point, especially if Wall Street is dumb enough to give it to them (unlikely). This stock can go up in the face many times, since it's not really based on fundamentals (housing prices continue to come down at mid and high end, regardless of those reporting median price stabilization-- which is due to "mix shift" of many houses at low end finally liquidating). But over ... |
Cramer on BloggingStocks: From froth to investible
FNM
Fannie Mae (NYSE: FNM) is TheSUBWAY Stock Traders Pick of the Day
FNM
We are getting into Fannie Mae (NYSE: FNM) this morning. After what appears to be a recent bottom we are seeing confirmation of upside momentum in Fannie Mae (NYSE: FNM):

Recent bottom in Fannie Mae (NYSE: FNM):

Volume has been building in Fannie Mae (NYSE: FNM), which is showing us strength:

Stochastics for Fannie Mae (NYSE: FNM) are also in excellent position for a continued move to the upside:

Our daily chart is showing upside momentum:

<> Our 15 minute chart is also showing momentum in Fannie Mae (NYSE>...
Fannie & Freddie Equity Headed to Zero?
FNM
<> A government takeover of Fannie Mae (FNM) and Freddie Mac (FRE) could be announced as early as today, with shareholders facing the grim prospect of having their equity completely erased along with other major executive changes at the companies in a move to stabilize the mortgage market.

Shares of smokeless tobacco company UST surged 25% on Friday on word that Altria (MO) will buy its smaller rival for $10 billion with a deal expected as early as tomorrow morning.

Japan-based Nomura Holdings may consider a <> strategic >>...
Think we hit bottom? Think again!
FNM
Thinking of investing in finacial stocks. Consider Bil Gross's comments first.

<>

Bond manager Bill Gross wants to spread the bailout wealth. Gross says in a commentary posted on the Pimco Web site Thursday that the government must "open up the balance sheet of the U.S. Treasury" to support Fannie Mae ( FNM ), Freddie Mac ( FRE ) and, in a new twist, "Mom and Pop on Main Street U.S.A." as well.

<> Gross has previously said he believes the Treasury will have to assist Fannie and Freddie in any efforts to raise new capital. His Pimco Total Return bond fund ha>>...
Individuals Could Win On Fannie, Freddie Preferreds
FNM
<>Bloomberg's "Fannie, Freddie Preferreds Batter Sovereign, Midwest" takes a closer look at the impact of Fannie Mae (FNM) and Freddie Mac (FRE) preferred stock on regional banks. Banks had liked the GSE preferreds because they can count as regulatory capital and give the banks a tax break. Now the banks face large write downs or possibly total losses on the preferreds, and they might have to raise more capital as a result. Worst case scenario is some banks face such a capital shortfall they might be forced out of business.

Let's look at the impact of nationalization with the cur>...
Cramer on BloggingStocks: It's never quite as dire as it seems
FNM
Filed under: PepsiCo (PEP), Ford Motor (F), General Motors (GM), Market matters, Citigroup Inc. (C), Federal Natl Mtge (FNM), Gap Inc (GPS), General Mills (GIS), Procter and Gamble (PG), Amer Intl Group (AIG), Washington Mutual (WM), Limited Brands (LTD), Rio Tinto plc ADS (RTP), Lehman Br Holdings (LEH), Stocks to Buy, Cramer on BloggingStocks
TheStreet.com's Jim Cramer says that even in lousy markets -- and this is one of them -- you can find stocks to buy.



When nothing's working, something's working. I know sounds counterintuitive. but there is simply no reason to think, as bad as this m...
Fannie and Freddie Shareholders Run for the Exit
FNM
Barron's is portraying a "curtain call" in store for shares of Fannie Mae (FNM) and Freddie Mac (FRE), which fell over 20% each Monday on concerns of insolvency.  Barron's suggested that the government would be likely to bail out the two government sponsored entities [GSEs], wiping out its equity holders, preferred, common and even subordinated debt holders.  Both of these stocks are near multi-decade lows and have dropped over 90% since 2007.

<>There is a concern over Fannie Mae's ability to withstand further losses in their sub-prime, Alt-A, and interest only loans.   >...
You're going to get your Fannie handed to you
FNM
| | | |
| --- | --- | --- |
| | | Get out of this stock. You will be burned by the bailout. The stock won't go straight to zero, but it's going to get there soon enough. Don't be a hero and try to play the inevitable dead cat bounce(s). |
Fannie, Freddie fall on renewed bailout fears
FNM
Government officials are likely seeking to avoid a full-fledged takeover of the companies, said Bert Ely, an Alexandria, Va.-based banking industry consultant and a longtime critic of Fannie and Freddie. More likely, he said are less-sweeping moves to calm rattled debt investors.

Those include having the Federal Reserve or Treasury Department lend to the companies. A government purchase of shares, he said, is "the step of last resort."

<> Brian Faith, a Fannie Mae spokesman, said in an e-mailed statement that the company "continues to exceed our regulatory capital requirements ...>...
The Heat is On: Fannie Mae (FNM) and Freddie Mac (FRE)
FNM
Lost in this month long Kool Aid rally off the July 15 lows is the danger that is

Freddie Mac

(FRE)

and

Fannie Mae (FNM)

. Just a month ago we had one of those emergency Sunday evening announcements that now comes every quarter as we reward risk taking institutions with our tax dollars [Jul 13: And Here We Go]. When things go well, they keep the gains and CEOs laugh to the bank. When things go bad, we cannot let any major institution fail - hi

Bear Stearns (BSC)

. This is one time when the inability to short is really going to cost us - while one could argue Bear was a surprise in how qui...
Stock Market Trends: Fannie/Freddie Musical Chairs
FNM
We have been saying to steer clear of the Fannie/Freddie duo for quite some time now. It's good to see that Barrons seconds our thoughts as they put out a pretty hard-hitting piece in their weekly issue over the weekend. A bounce in those stocks was inevitable, but it appears that it was short-lived and it's finished.

This little blurb from Barrons says it all and underscores our bearish views on the companies:

<><>The balance sheets of both companies have been destroyed. On a fair-value basis, in which the value of assets and liabilities is marked to immediate-liquidation value, >>...
Fannie, Freddie Shareholders Will Be Left Holding the Bag - Barron's
FNM
"The almost inevitable government recapitalization of Fannie Mae and Freddie Mac will likely wipe out investors—and management," Barron's magazine says.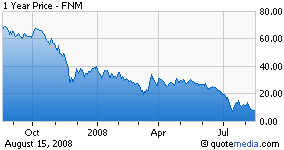 Assuming their assets were liquidated now, based on their fair-value reporting, Freddie Mac's (FRE) net worth would be -$5.6B, while Fannie Mae's (FNM) would fall to just $12.5B, from $36B at year-end.
Fannie Mae
FNM
Wall Street declines on Freddie Mac loss

Wednesday, August 06, 2008 3:35:43 PM

<>

Stocks retreated Wednesday, a day after a big rally, as troubled mortgage financier Freddie Mac reported a larger-than-expected second-quarter loss and touched off fresh concerns about the financial sector.

<> Freddie Mac, which substantially increased its reserves for souring loans, lost about three times what Wall Street expected on a per-share basis. The company also announced that it expects to cut its third-quarter dividend as it seeks to preserve capi>>...
Fannie & Freddie Are Here to Stay
FNM
A lesson I learned from the Bear Stearns (BSC) fallout was that if you get into a stock when it hits rock-bottom, your investment can only go up. While I was a little late with the Bear Stearns opportunity (when it briefly traded at $2 and change); I see a potential opportunity for me (and like minded investors) to make good on the now notorious: Freddie and Fannie.

<>Federal National Mortgage Association, a.k.a. Fannie Mae (FNM), and the Federal Home Mortgage Corporation a.k.a. Freddie Mac (FRE), have operated as a duopoly since 1968 as government sponsored enterprises [GSEs]. In common spea>...
People Bullish on FNM
People Bearish on FNM
| | | |
| --- | --- | --- |
| ROCK-STAR INVESTORS | | POPULAR STOCKS |
| TODAY'S HEADLINES | | TODAY'S TOP PICKS |
Closing out my Short on FNM and FRE -

I am closing my short positions in Fannie Mae and Freddie Mac just because the easy money has been made but I still wouldn't not touch the equities in
pupu69 (

+236.52%

risk:

conservative

)
is it a Keeper...? -

any bets on this one or FRE...on my opinion is a keeper and hopefully will be $30 + on a couple years...
About Fannie Mae - Answers.com


Historical Prices - Yahoo


Message Boards - BoardCentral.com

More Info: Yahoo | Google | Reuters