SocialPicks Sentiment:




** v.s. other stocks

This Quarter's Sentiment:
GRMN Analysis & Videos »
GRMN: Bull or Bear?
Garmin (GRMN): The wild card is nuvifone
GRMN
+179.70%
in 1744 days
Filed under: International markets, Newsletters, Stocks to Buy, Garmin Ltd (GRMN)

"Though I've long believed Garmin (NASDAQ: GRMN) was easily the best managed firm in the GPS space, it continues to feel the sting from competitive forces," says Paul McWilliams.

Here, the technology stock specialist and editor of Next Inning reviews the company and the prospects for its new entry in the cell phone market -- the nuvifone.

<>"As you would expect, the nuvifone is very GPS-centric with all sorts of Geo-tagging features for email, SMS and pictures. It also includes an Opera browser and is fully capable>...
Bearish on GRMN ...
GRMN
+0.00%


in 14 minutes
(closed on 08/03/08)

company sells the best GPS devices i have ever had wish I could say that about their stock price recently... Too much competition, they may still offer superior products but in a time of little money to spend on extras. People don't want to spend hundreds on a high tech blue tooth, talking GPS.... Defintely either a speculative stock or if you really want to lose money.... Wait till it bottoms even further then buy maybe closer to christmas.....
At its 52 Week Low is Garmin a Buy?
GRMN
+35.83%
in 1952 days
<>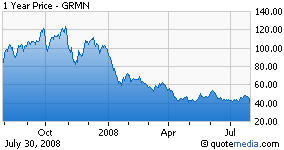 Garmin (GRMN) hit a new 52-week low after indicating its much anticipated new product, Nuvifone, would be delayed. GRMN has aviation, marine, and automobile divisions, and all are affected by the increased price of oil. In addition, GRMN has formidable competition from TomTom and Magellan. According to Yahoo Finance, about 18% of GRMN's float is being sold short, so there are plenty of people who dislike this stock. At these prices, however, I consider GRMN to be a long-term value play. I bought shares at 36.06 dollars and may average down if shares continue to go lower.

Eric Savitz's Tech T>...
Stock Market Trends: Garmin Searching for Answers
GRMN
-35.83%




in 1952 days

Shares of Garmin (GRMN) are plummeting 22% to $35 and change, which is a new 52-week low today after it cut its full-year sales and earnings outlook due to poor growth in its navigation market. It also delayed the launch of its smartphone. The company said that consumers are being more cost-conscious that it thought.

For the full year, the company is now projecting profits of $4.13 a share on sales of $3.9 billion. It previously expected profit to exceed $4.40 a share on revenue of more than $4.5 billion. Analysts were expecting earnings of $4.03 on sales of $4.13 billion.

<>For our subscribe>...
Garmin undervalued...MACD shows change coming
GRMN
+0.00%


in 16 hours
(closed on 07/30/08)

GRMN MACD is showing a strong bullish signal two ways:. 1. It is above the signal line, 9day moving average. 2. MACD is above 0 which implies that the underlying moving averages are trending higher.

I tried to paste a jpg here but it didn't work. My apologies.
100% Fibonacci projection shows near term just above $50
GRMN
+0.00%


in 20 minutes
(closed on 07/29/08)

The trend still shows lower, Fibonacci projection shows bottom at $44.1998. Earnings are 7/30/08. Low P/E ratio, profit margin over 25%,aircraft certification approval yeterday; this navi company is cheap at current prices. Support tested at $41.7939 multiple times. May wait for confirmation due to trend headed south but earnings are tomorrow...
Garmin (GRMN): Bet on the 'Nuvifone'
GRMN
-63.25%
in 209 days
(closed on 02/24/09)
Filed under: International markets, China, Newsletters, Stocks to Buy, Garmin Ltd (GRMN)

"What's so special about the new Nuvifone from Garmin Ltd. (NASDAQ: GRMN)?" asks global expert Tony Sagami. In his The Asia Stock Alert takes a look at the new high tech device.

'The tech world has been waiting for the one of the more natural technological marriages to happen. I'm talking about merging the useful functionality of hand-held GPS devices with the mobile phone.

<>"Along with that anticipation has been the speculation of which cell phone maker Garmin would team up. The mystery is over! Instead o>...
YRC Worldwide Keeps Truckin' - Cramer's Lightning Round (6/18/08)
GRMN
-7.49%
in 1993 days
Stocks discussed in the lightning round session of Jim Cramer's Mad Money TV program, Wednesday June 18. <!----> <!---->
Bullish calls:
<><>

Black & Decker (BDK): "I pulled the trigger today and bought some more for my trust. It's cheap and has a 3% yield, so I said it's time to buy. I am willing to take the consequences. The housing crisis will eventually be over."

Praxair (PX): "The gas business is on fire. These are stocks we've been recommending for multiple years. I reiterate my buys on Airgas (ARG), Air Products and Chemicals (APD) and Praxair."

<>YRC Worldwide (YRCW): "I think it's f>>>...
Beaten Down Garmin Undervalued Opportunity
GRMN
N/A

+0.00%


in 10 minutes
(closed on 06/17/08)

<> GRMN is significantly undervalued considering their Return on Capital, Equity, EPS, Sales, & Cashflow Growth Rates. The Stock Price is at a 2 year low after huge selling that occured within the last 6 months. P/E is less than 12 compared to an average P/E of 20 over the past 10 years. GRMN slightly missed earnings last quarter setting the stage for a nice runup next quarter if they meet or beat expectations which they should as they have confirmed 2008 EPS guidance. The Board of Directors has also approved buying back company shares at their discretion of up to ten million shares. Dec>...
Garmin
GRMN
-6.27%




in 2009 days

Gain Time Held


Garmin's principal activity is to design, develop, manufacture and market navigation, communications and information devices. The Group operates under two business segments: Consumer products and Aviation products.
<> <> <> <>
Currency
US Dollars
<>
Share Price
$50.57

>>>>>...
Valuation: Garmin Ltd. (GRMN)
GRMN
-51.52%


in 408 days
(closed on 07/07/09)

Company Profile:  GARMIN LTD. (GRMN) "Garmin is a leading, worldwide provider of navigation, communications and information devices, most of which are enabled by Global Positioning System ("GPS") technology.  Garmin designs, develops, manufactures and markets a diverse family of hand-held, portable and fixed-mount GPS-enabled products and other navigation, communications and information products for the automotive/mobile, outdoor/fitness, [...]
Target $75 on Garmin Shares
GRMN
+12.31%
in 2031 days
All segments were up double-digits in 2007, and are expected to be up double-digits again in 2008.
Why Garmin Ltd (GRMN) won't be rebounding soon
GRMN
-14.56%
in 2038 days
Filed under: Google (GOOG), Apple Inc (AAPL), Berkshire Hathaway (BRK.A), Bargain stocks, Stocks to Sell, Garmin Ltd (GRMN)
While researching GPS maker Garmin Ltd (NASDAQ: GRMN) -- whose stock has lost two-thirds of its value in the last six months -- I can't help but pity those long-term shareholders who reject trend following and technical analysis in favor of investing for the long term. To them, it seemed like only yesterday that GPS was one of the hottest technologies around and this industry leader could do no wrong.

Well, that's usually the time to sell, just as I posted on Apple Inc (...
Quick Trade Note
GRMN
-12.34%
in 2042 days
I bought 100 shares of SKF (short financials) at $96.53. I bought 300 shares of SWN at $39.77 I was stopped out of ANR at $47.40 for a loss. I went short 200 shares of GRMN at $42.67 I will detail these trades later today.
Reuters Misunderstood CFO Comments, Maintain Buy
GRMN
-10.57%
in 2069 days
4/3 - "GRMN is off after a Reuters article reported that the company's CFO indicated that first quarter revenue would be down 40%-50% and that 2008 gross margins would fall below 40%." "Following our conversation with CFO Kevin Raukman, we believe...Garmin was patently misquoted with regard to gross margins. Garmin expects *PND* gross margin to fall below 40% this year (as previously guided). Gross margin for the total business should be above 40%...The picture is less clear with respect to revenue. We and the Street have modeled 1Q revenue of ~$738 million, down ~40%. A sequential slowdow...
People Bullish on GRMN
People Bearish on GRMN
| | | |
| --- | --- | --- |
| ROCK-STAR INVESTORS | | POPULAR STOCKS |
| TODAY'S HEADLINES | | TODAY'S TOP PICKS |
StreetInsider.com on GRMN
Has Garmin run its course? -

Garmin's had an incredible run this year, especially when you factor in the commodity pricing and competition in this industry. However, they could ea
About Garmin Ltd - Answers.com


Historical Prices - Yahoo


Message Boards - BoardCentral.com

More Info: Yahoo | Google | Reuters