SocialPicks Sentiment:




** v.s. other stocks

This Quarter's Sentiment:
KMB Analysis & Videos »
KMB: Bull or Bear?
Kimberly-Clark (KMB): Clean Up with Kleenex
KMB
+61.60%
in 1031 days
Filed under: Newsletters, Kimberly-Clark (KMB), Stocks to Buy
"When it comes to longevity, it's hard to beat the Kimberly-Clark Corp. (KMB); this US paper and healthcare product manufacturer was founded in 1872," says income expert Amy Calistri.

The editor of The Daily Paycheck explains, "While we tend to think of as a staid and steady company, Kimberly-Clark has a long history of innovation, supporting a lifetime of earnings and dividend growth.

<>"Kimberly-Clark was the first company to put toilet tissue on a roll. It invented the 'disposable handkerchief' -- or what we know as the iconic Kle>...
Kimberly-Clark: Impressive Emerging Markets Play
KMB
+76.72%
in 1371 days
Filed under: Kimberly-Clark (KMB), Stocks to Buy
Kimberly-Clark (KMB), first discussed here on June 22, 2009 at a price of $51.06, remains a preferred consumer stable operation, despite a recent stock price dip. Here's why:

Look for revenue to increase 5-7% in 2010, aided by impressive growth in emerging markets, particularly in KMB's personal care and health care units. Kimberly has successfully positioned itself as a global consumer products/personal products company, with 50% of its sales outside the U.S., including about 30% from Asia/Latin America; Kimberly sells products in more than...
Serious Money: Still Cheap Market -- 35 Stocks + Yields & Growth
KMB
+77.11%




in 1409 days

<>Filed under: Hewlett-Packard (HPQ), eBay (EBAY), Pfizer (PFE), Wal-Mart (WMT), International Business Machines (IBM), Johnson and Johnson (JNJ), JPMorgan Chase (JPM), Abbott Laboratories (ABT), AFLAC Inc (AFL), Altria Group (MO), Archer-Daniels-Midland (ADM), AutoZone Inc (AZO), Bristol-Myers Squibb (BMY), Campbell Soup (CPB), Chevron Corp (CVX), Chubb Corp (CB), ConocoPhillips (COP), CVS Corp (CVS), Darden Restaurants (DRI), Goldman Sachs Group (GS), General Mills (GIS), Verizon Communications (VZ), duPont(E.I.)deNemours (DD), Kimberly-Clark (KMB), Merck and Co (MRK), Lockheed Martin (LMT)>...
Kimberly-Clark Is in an Uptrend
KMB
-7.18%
in 78 days
(closed on 03/11/10)
Filed under: Kimberly-Clark (KMB), Stocks to Buy
Kimberly-Clark's (KMB) stock continues the long, slow walk up, hence it goes without saying that I'm reiterating my buy rating for the company's shares, first recommended on June 22, 2009 at a price of $51.06. If you bought KMB in June, you're up about 25%.

Kimberly posted Q3 EPS of $1.40, or well above the $1.13 First Call Q3 EPS estimate. And you know the drill: look for 'MOTS' -- as in 'more of the same' in Q4, where the First Call estimate is $1.25. For 2009, revenue will come in down 2% to flat, with a 5-7% gain seen in 2010, led by stron...
Kimberly-Clark: A Little Overvalued at Current Price
KMB
+79.78%
in 1954 days

Linked here is a PDF copy of my detailed analysis of Kimberly-Clark Corporation (KMB) (alt.1, alt.2). Below are some highlights from the above linked analysis:

Company Description: This leading consumer products company's global tissue, personal care and health care brands include Huggies, Pull-Ups, Kotex, Depend, Kleenex, Scott and Kimberly-Clark.

Fair Value: I consider four calculations of fair value, see page 2 of the linked PDF for a detailed description:

Avg. High Yield Price
20-Year DCF Price
Avg. P/E Price
Graham Number
<>KMB is trading at a discount to 1.) and 3.) above. If I exclude the hig>...
Competition for Kimberly-Clark
KMB
+70.63%
in 1995 days
Management is spending heavily on marketing and advertising in 2008, which may further compress the operating margin.
6 Stock Picks for a Weak Market - Barron's Interview
KMB
+71.66%
in 1997 days
Barron's interviews Legg Mason (LM) value investors Harry Cohen and Scott Glasser, whose Legg Mason Partners Appreciation outdid the S&P 500 by nine points over the past year, despite losing 0.69%.<!---->
They say the time to get bearish was a year ago -- now it's time to be cautious. Financials will not bottom until investors "start thinking in terms of absolute losses and really get scared." Energy, industrials, agriculture and materials - not financials - will lead the market higher, although it doesn't seem to have bottomed yet.
YRC Worldwide Keeps Truckin' - Cramer's Lightning Round (6/18/08)
KMB
-69.01%
in 2000 days
Stocks discussed in the lightning round session of Jim Cramer's Mad Money TV program, Wednesday June 18. <!----> <!---->
Bullish calls:
<><>

Black & Decker (BDK): "I pulled the trigger today and bought some more for my trust. It's cheap and has a 3% yield, so I said it's time to buy. I am willing to take the consequences. The housing crisis will eventually be over."

Praxair (PX): "The gas business is on fire. These are stocks we've been recommending for multiple years. I reiterate my buys on Airgas (ARG), Air Products and Chemicals (APD) and Praxair."

<>YRC Worldwide (YRCW): "I think it's f>>>...
Kimberly-Clark Corp.
KMB
+69.09%




in 2000 days

Kimberly-Clark Corporation engages in the manufacture and marketing of health and hygiene products worldwide. It operates in four segments: Personal Care, Consumer Tissue, K-C Professional & Other, and Health Care. The Personal Care segment manufactures and markets disposable diapers, training and youth pants, and swim pants; baby wipes; feminine and incontinence care products; and related products. This segment offers its products primarily for household use under various brand names, including Huggies, Pull-Ups, Little Swimmers, GoodNites, Kotex, Lightdays, Depend, Poise, and other brand ...
Kimberly-Clark: Absorbing New Markets
KMB
+65.17%
in 2029 days
Kimberly-Clark (KMB) is a company that has experienced ups, downs and, generally, stagnation. An institutional favorite, and especially a darling of American Century and Vanguard Fund families, KMB is lurching forward and may add some spice to its vanilla image.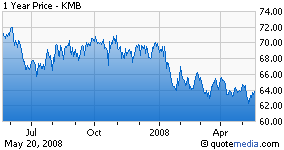 Kimberly Clark: Barron's Looks Right on this One
KMB
+64.81%
in 2059 days
Kimberly Clark (NYSE:KMB) was written up in this week's Barrons as a good buy. I agree. Here's why...

<!--more-->

April 18, 2008 close: $63.34
People Bullish on KMB
People Bearish on KMB
| | | |
| --- | --- | --- |
| ROCK-STAR INVESTORS | | POPULAR STOCKS |
| TODAY'S HEADLINES | | TODAY'S TOP PICKS |
About KimberlyClark Corp - Answers.com


Historical Prices - Yahoo


Message Boards - BoardCentral.com

More Info: Yahoo | Google | Reuters