SocialPicks Sentiment:




** v.s. other stocks

This Quarter's Sentiment:
PXP Analysis & Videos »
PXP: Bull or Bear?
PXP-4 stocks and ETFs for the coming rally in oil prices
PXP
| | | |
| --- | --- | --- |
| | | http://suprastock.blogspot.com/2010/06/4-stocks-and-etfs-for-... http://suprastock.blogspot.com/ Plains Exploration & Production (NYSE: PXP), recent price, $23.59 - Although Plains does have some offshore interests - including a new exploration project off Vietnam - the bulk of its 359 million barrels of oil and oil-equivalent reserves is in California, the Gulf Coast region, the Mid-Continent Region and the Rocky Mountains. The Houston-based company had trailing 12-month earnings of $1.42 a share and the recent price is near the bottom of the 52-week range of $19.28 to $36.60. Ano... |
PXP Buys Into Haynesville Shale, Could Be a 'Great Deal'
PXP
<>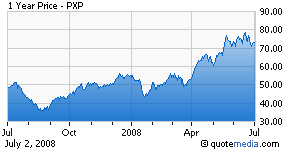 The Haynesville Shale appears to be the next platform for stock growth. With so few options in this market for growth, without agricultural plays such as (POT) and (IPI), the energy market looks primed for growth through the end of the year. Also, if you think that OPEC will help us, you are sadly mistaken. Since they have had low prices for so long OPEC will keep them up for as long as the US market doesn't belly flop. This is an interesting time for our economy but luckily >...
Plains Exploration Initially a Buy
PXP
Record crude oil prices and favorable natural gas prices will help expand operating margins and earnings. We see the company growing earnings by roughly 170% in 2008.
People Bullish on PXP
People Bearish on PXP
| | | |
| --- | --- | --- |
| ROCK-STAR INVESTORS | | POPULAR STOCKS |
| TODAY'S HEADLINES | | TODAY'S TOP PICKS |
About Plains Exploration & Production Company - Answers.com


Historical Prices - Yahoo


Message Boards - BoardCentral.com

More Info: Yahoo | Google | Reuters