SocialPicks Sentiment:




** v.s. other stocks

This Quarter's Sentiment:
S Analysis & Videos »
S: Bull or Bear?
Why Sprint isn't tripping...
S
-28.88%


in 63 days
(closed on 10/07/11)

All puns aside, Sprint is getting pummeled and rightfully so. I've never had an interest in getting a phone on their network and occassionally heard mediocre review. Sprint has broken thru my technical levels, there are major investors in this stock, and Sprint is building out there 4G network through a partnership with LightSquared...owned by Phil Falcone (famed hedge fund investor). A contratrian view on a sagging, slumping stock.
Sprint Nextel: For High-Risk Investors, Only
S
+91.85%
in 1095 days
Filed under: Sprint Nextel Corp (S), Stocks to Buy
Is the tide starting to turn for much-maligned mobile phone service provider Sprint Nextel (S)? Perhaps, and the carrier is worth a review.

First, the most important warning: Sprint is a high-risk stock not suitable for low-risk or moderate-risk investors.

Don't consider Sprint if you can't tolerate a more than 50-70% loss or seeing your entire investment wiped out -- it could happen.

The gory story with Sprint has been well-documented: Sprint's cell network underperformed, to say the least, regarding call completions, with the company becomin...
sprint should generate excitement on "smartphone" rollouts
S
N/A

+102.53%




in 1531 days

<> <> Sprint is rolling out slew of SMARTPHONES including the "Sprint Hero" based on Google Android Software. Also a Samsung Roll Out coming soon. Release to the public on the "HERO" will be October 11, 2009. They are rolling out several smartphones anyone of which may very well be a worthy competitor to the "IPHONE". Smartphones should be a disruptive technology in the short and the long term. They will be capable of providing all our need in respect to telephone, TV, video, messaging, storage, etc., within a brief time. I think Apple's explosive rise and in the market during>>...
Bullish on S ...
S
N/A

+79.37%




in 1610 days

Just another one of my billion dollar picks. Nothing but good news comes out of Sprint. First it was the sprint nextel contract two years, now it is the Sprint nextel no contract, unlimited texes, and minutes, nation-wide. Economy is in the dumps contracts get cxled and no contracts get served. Please join me and make some money, In plain English I know many people with out jobs still paying their bills. I am a rookie, but this would be one of my long term picks, aggressive for the up and coming month.
Sprint Nextel Corp Series 1
S
Five tips from a trader who earned 197% in 2008
S
-249.34%
in 1785 days
Filed under: Google (GOOG), Apple Inc (AAPL), General Electric (GE), JPMorgan Chase (JPM), Sprint Nextel Corp (S), Bank of America (BAC), Goldman Sachs Group (GS), Stock screen, Stocks to Sell

I
t's been a long time since I wrote here, mainly because I've been busy busting my butt---I was up 197% in 2008, every trade detailed HERE for your learning pleasure, becoming the #1 ranked trader, out of 15,000+ on Covestor.com and growing my blog's monthly income to over $80,000+----so yes, 2008 was a very very good year for me.

Here are five tips I'd like to pass on to help you in 2009:

1. Be honest ...
Dialing for Dividends in Telcos
S
+142.42%




in 1872 days

<>
Although not completely immune from the current global economic slowdown, many telecom services companies are currently yielding higher amounts than tobacco companies and the Utilities Select Sector SPDR (XLU). Although many of the foreign telecom companies included in the ETFI Global Telco Services Dividend Income Index issued special one-time dividends over the past year which inflates their trailing 12-month yield; both Verizon (VZ) and AT&T (T) are currently yielding over 6% each while trading at multi-year lows.

In >...
Sprint Nextel Corp.
S
-42.60%


in 326 days
(closed on 05/22/09)

<> <>
Analysts' Targets
BMO Capital Markets
$11
Market Perform
Thursday, May 08, 2008


Deutsche Bank Securities
$7
Accumulate
<>

Thursday, March 13, 2008


>>>...
Sprint Nextel Corp Series 1
S
-11.82%


in 4 days
(closed on 06/29/08)

Analysts'
Recommendation:
Hold
30 Days Ago:
Hold

---

Analysts' Target:
$10

<> <>
Analysts' Targets
BMO Capital Markets
$11
<> >>>...
Cramer on BloggingStocks: Motorola's worth will out
S
+4.17%
in 1989 days
Filed under: Deals, Yahoo! (YHOO), Motorola (MOT), Market matters, Sprint Nextel Corp (S), Goldman Sachs Group (GS), U.S. Steel (X), Nucor Corp (NUE), Stocks to Buy, Cramer on BloggingStocks

TheStreet.com's Jim Cramer says the slide has to end somewhere -- eventually, we'll see a bid.



Is someone having a margin call? That's what I keep thinking as I watch the sickening slide in Motorola's (NYSE: MOT) (Cramer's Take) stock. How can Motorola go down so much? This is a company ...
Expect Sprint to Take Awhile
S
-13.98%
in 2030 days
A new management team at the company has suggested that operating improvements may take several quarters to transcend to financial results.
Syniverse Holdings (SVR): Shares in bullish 'flag'
S
Cramer on BloggingStocks: Europe is starting to eye U.S. gems
S
-14.76%
in 47 days
(closed on 06/24/08)
Filed under: Deals, Market matters, Allergan (AGN), Citigroup Inc. (C), Sprint Nextel Corp (S), Unilever ADR (UL), Stocks to Buy, Cramer on BloggingStocks
TheStreet.com's Jim Cramer says the exchange rate plus massive undervaluations make the great brands prime targets.



There's always been a groupthink in Europe about currencies. The companies that want to buy American companies have, at times, seemed to care more about the currency, or at least not buying a company in a country whose currency is in decline, than they care about the actual target.

That's what it looks like now that a lar...
Sprint Nextel: A Short on Today's Gap-Up
S
+8.26%
in 2038 days
We have some news and comments on Sprint Nextel (NYSE:S) that make the stock a short in my book despite the upgrade from Cowen & Co:

<!--more--><>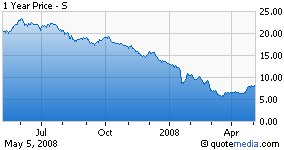 - Banc of America notes they don't view a declaration that one or another party is looking to the investment merits of Sprint as news. They'd be dismayed if every private equity and telecom concern, foreign and domestic, wasn't constantly assessing the M&A and competitive landscape. This said, their initial response is that the hash of three different technologies might represent looks more like Sprint Nextel 2.0 in the making than anything else. T>...
Sprint is a Steal at Current Levels
S
-3.03%
in 2039 days
4/21 - "Based on the intrinsic value of its spectrum holdings and its business operations, Sprint (S) is still a steal at its current market cap." "A rough calculation valuing Sprint's spectrum holdings at $1 per MHz - pop for iDEN spectrum at 800 / 900 MHz, $.75 per MHz - pop for PCS spectrum at 1.9 GHz, and $.50 per MHz - pop for WiMAX spectrum at 2.5GHz, easily yields an intrinsic value of over $10B. By being even more conservative and downgrading the value of Sprint's spectrum holdings by 20% to $8B still leaves one to argue that, with current debt being factored in, the remaining bri...
People Bullish on S
People Bearish on S
| | | |
| --- | --- | --- |
| ROCK-STAR INVESTORS | | POPULAR STOCKS |
| TODAY'S HEADLINES | | TODAY'S TOP PICKS |
SELL THIS RALLY -

Sell this rally if you know what is good for you. The reasons are simple and relatively straight forward. Firstly, nothing has changed if anything th...
About Sprint Nextel Corp Series 1 - Answers.com


Historical Prices - Yahoo


Message Boards - BoardCentral.com

More Info: Yahoo | Google | Reuters