SocialPicks Sentiment:




** v.s. other stocks

This Quarter's Sentiment:
SOLF Analysis & Videos »
SOLF: Bull or Bear?
Solarfun Power Holdings Co., (ADR) (SOLF) - Rally From Key Support
SOLF
| | | |
| --- | --- | --- |
| | | Solarfun Power Holdings Co., Ltd. (ADR) (SOLF) has had quite a bit of volatility during its 20 month span of being a public company.  The Chinese manufacturer of solar products came public at $12.50 towards the very end of 2006.  The company is expected to earn $0.93 per ADR this year and should grow earnings [...] |
With Help from California, Solar Gets Fired Up
SOLF
My home state of California has been in the solar industry's spotlight in recent years. Our Governor, Arnold Schwarzenegger, adopted a well-publicized plan to embrace renewable energy in the sunshine state. Based on this plan the State's 20% electricity has to come from renewable sources by 2013.

<>So far Cali gets 11.8% of its electricity from renewable resource according to the state energy department. So we still have to build additional 8% based on either solar or wind. So far solar seems to be the best approach because of the abundance of sunlight. The PG&E (PCG) deal with SunPower (SPWR>...
Solarfun Power Should Again Provide Earnings Upside Surprise
SOLF
Solarfun power (SOLF) has been beating Street consensus estimates for three continous quarters now, and this time is no exception. Based on the events and news releases of the last few months, this company likely easily beats the Street by huge margin, and continues to see its stock price soar higher.

<>
There are a few things investors need to pay attention to. Tuesday Morgan Stanley (MS) took an offer from solarfun in the form of <>an at-the-market equity offering. Investors welcomed this event with a stock price 7% move up Wednesday. Keep in mind, back in June 2008, Morgan Stanley bought 8M s>>...
Expecting Strong Earnings Upside from First Solar and Solarfun Power
SOLF
Many things happening now are boosting the outlook for solar stocks in the energy industry. High oil pricing due to strong demand worldwide also places solar as the front-runner among renewable energies. US presidential candidates Barack Obama and John Mccain's strongly support solar and wind energy, making this sector very attractive for investment no matter who wins.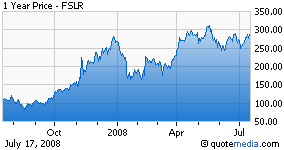 There are two companies in this sector investors should expect strong earnings from for this quarter: First Solar (FSLR) and Solarfun Power Holdings (SOLF). 

<>First Solar is the leader in this sector. The company reported 1st >...
Solarfun Power: The Next Solar Giant?
SOLF
In the solar sector, good names are everywhere simply because the whole sector is booming. But which one is better for investment? The answer, in my opinion, is Solarfun Power Holding (SOLF).

<>
Solarfun Power Holding has revenue of $497M/year, with a quarterly revenue growth of 528% (the highest in solar sector); more importantly, revenue per share [RPS] is at a high of $10.34 and FPE is only 1.69, yet company market capital is merely $710M (source: Yahoo Finance and Capital IQ). If you look at Evergreen Solar (ESLR), revenue is $78.8M/year, while quarterly revenue growth is 62%. RPS is only $>...
Bullish on SOLF ...
SOLF
| | | |
| --- | --- | --- |
| | | Company win a order ( supply 47 pcs of photogalvanic cells) to Schuco International KG. |
A Look at Four Polysilicon-Based PV Manufacturers' Funding
SOLF
In this post we will take a look at the future capital needs and funding requirements of four Chinese polysilicon-based PV Manufacturers.

<>Briefly, our conclusion, based on current low cash levels, high outstanding short-term debt as a percentage of total capital, and future capital needs, in the form of outstanding purchase obligations listed in recent 20-F filings, is that nearly all of the companies mentioned here will have a significant weakening of balance sheets in the near term, as short-term debt levels soar to support growing operating cash losses and purchase obligations. The prosp>...
Trade Setup: SOLF
SOLF
I bought 300 shares of SOLF at an average price of $21.48. Setup: Breakout Pullback. The stock has pulled back to the 20 day moving average after a strong breakout. Stochastics recently reached oversold levels and has turned up. The volume pattern is consistent with the breakout-pullback setup, with volume contracting post breakout. Moving average traders will also note that the 50 day has
Expecting Solarfun to Beat Q1 Estimates
SOLF
Solarfun Power Holdings (SOLF) is set to report earnings prior to the market open on Wednesday, May 21st. <!----> Solarfun is a leading global manufacturer of solar technology.

SOLF is expected to earn .15 cents per share for its 1st quarter of 2008. The most recent solar stock results lead us to believe Solarfun should announce earnings and revenues that will beat investors' and analysts' expectations.
Solarfun Earnings Could be the Perfect Trigger for a Short Squeeze
SOLF
<>Virtually all of the solar companies which have reported recently have reported better than expected earnings. <!---->Canadian Solar (CSIQ) trounced their earnings estimates. CSIQ is in a virtually identical segment of the business to Solarfun (SOLF). According to theStreet.com analyses on TD Ameritrade, SOLF has slightly better margins than CSIQ. This would lead one to believe that SOLF is likely to have much better than expected earnings this quarter. With the price of the stock currently sitting on (or near) the trigger point for most short sale buy backs, a move up with earnings might w>...
Bullish on SOLF ...
SOLF
| | | |
| --- | --- | --- |
| | | I strongly believe in solar energy for the future |
Bullish on SOLF ...
SOLF
| | | |
| --- | --- | --- |
| | | SOLF will do very well in 2008 and beyond. |
SOLF Fails
SOLF
N/A

This company has great earnings and fundamentals but the market is forcing its symmetrical triangle formation to fail. In addition, its recent new highs are fairly extended from the last base, adding to its vulnerability.

Some technicals about my chart:
1) Symmetrical triangle pattern fails to break out due to overwhelming bad market conditions.
2) RSI takes a dive from overbought conditions and should go lower from here.
3) MACD makes a turn and could possibly make a bearish cross-over with some more down wards movement of the stock price, if that happens.
4) Today the p...
Chinese Solars
SOLF
| | | |
| --- | --- | --- |
| | | Super-hi risk, must be watched closely, but I think this one is cheap compared to the other Chinese solars. |
People Bullish on SOLF
People Bearish on SOLF
| | | |
| --- | --- | --- |
| ROCK-STAR INVESTORS | | POPULAR STOCKS |
| TODAY'S HEADLINES | | TODAY'S TOP PICKS |
StreetInsider.com on SOLF
vem77 (

+0.00%

risk:

conservative

)
Potential for Growth -

I have been holding this puppy for a year now, this one has a wild ride on either side, it start jumping up and always pull down on some global rates f...
About Solarfun Power Holdings Co. Ltd. - Answers.com


Historical Prices - Yahoo


Message Boards - BoardCentral.com

More Info: Yahoo | Google | Reuters